Sumitomo is Saving Christmas!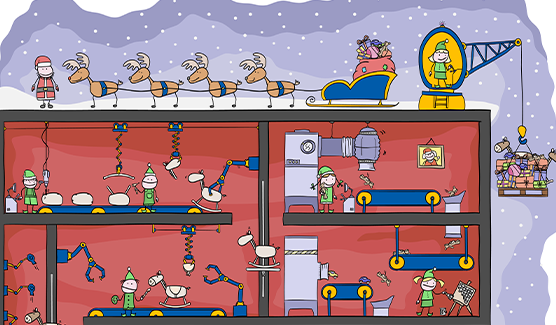 The holiday season is approaching--are you ready? Well, with the help of our expert engineers and manufacturing staff, Santa sure is. Last year, he showed up in our chimney at our Chesapeake headquarters and let us know how inefficient his processes are. From his elves handmaking toys (sometimes thousands of the same exact one) to struggling with loading them in his sleigh one-by-one--Santa needed an extra hand. 
Like any production facility, Santa's Workshop has various cells and departments that work together to get Santa ready for his big night. The main sections of his operation include a Child Quality Team that sorts the letters and inspects the child's behavior, a Gift Manufacturing cell that builds each toy, and a Gift Departure Team that focuses on wrapping each gift and loading it on the sleigh.  
Here is the plan we worked out for Old Saint Nick.
Goal 1: Simplify the letter sorting process. 
Thousands upon thousands of children (and adults) write to Santa annually about how good they have been and what they really want for Christmas. Santa admitted that his Child Quality Team sometimes loses a few hundred letters each year. We know in any operation losing those request letters can put you on the naughty list... but thankfully, at Sumitomo that's about as rare as Santa missing Christmas.  After digging in a little more, Santa currently operates around a 4-sigma level, but is trying to get his operation to a world-class 6 sigma level, or 3.4 DPMO (defects per million).  
We worked with a company named International Conveyor Experts (ICE), who specialize in sorting conveyors, and spec'd out this application using our Cyclo 6000 gearmotors and Invertek VFD's to move each letter at just the right speed, making them easier to keep track of. 
Goal 2: Increase Major Gift Manufacturing Productivity 
Santa pointed out that making each toy or gift by hand is very time-consuming. The Elves do pride themselves on their handcrafted items, but some things could be mass produced quickly with a bit of automation. Top gift requests to Santa every year include dolls, action figures, and toy cars. Even with hundreds of elves in the Gift Manufacturing cell, it can take a single elf up to 1 hour to create a single doll by hand. Mrs. Clause met with Pol. R. Bear Robotics and Automation Corp. about Industrial Robots and a conveyor system. Our engineers drafted CAD drawings that included our Fine Cyclo on the robotic application and Bevel BuddyBox-H for the conveyors.  
During a test run, the application was able to manufacture three dolls in an hour! Mrs. Clause went back to Pol. R. Bear Robotics and requested several more industrial robots installed to handle their other top gift requests this season. 
Goal 3: Automate Gift Transport Within the Workshop.  
Like any operation, products must move from one place to another quickly. The current setup had the elves from the Gift Manufacturing cell physically walk each item to the Gift Wrapping cell. Since the elves are tiny, they could not carry as many things as you or I. The members of the Gift Wrapping cell also had to move each finished gift to the storage area a few steps behind the workshop, where they stayed until Christmas Eve. 
Morale and productivity from both teams decreased immensely with this setup. 
Our answer to this problem? Automated Guided Vehicles from Pol. R. Bear Robotics using our Smartris package drive solution! Smartris is a compact, integrated, and intelligent solution for Santa's gift transportation issues. With Smartris, we provide a "one-stop-shop" for all the AGV components, as we supply the Servo Motor, Wheel with integrated Cyclo Gear, and Control Unit. The AGV alleviates the burden of dragging each gift from one cell or area to another and allows the Elves to work continuously on other projects.
Goal 4: Easily Load Santa's Sleigh on Christmas Eve 
On Christmas Eve, the Gift Departure Team must unload the storage area prepped by the Gift-Wrapping cell and pack Santa's Sleigh on the roof. Santa's workshop has not been remodeled in hundreds of years, so there are no elevators--just stairs. This team carried each gift tirelessly up the stairs for hours to get him ready for his big night. Santa tried to assist with this process for one year but hurt his knees and back and almost missed Christmas. 
The HEE or head elf engineer, Gerald, sent a few proposals out and accepted the one from a very friendly company named National Integrated Crane Experts (NICE.) They suggested that the workshop transport wrapped and ready toys to the sleigh using a crane and hoist. This application, paired with our Paramax Reducer, was a match made in heaven. The heavy-duty reducer allowed the elves to lift hundreds of toys from the storage area directly to the sleigh in a fraction of the original time.
Goal 5: Simplify the Start-Up Process Every Year. 
One main pain point that Santa pointed out was that the workshop is closed most of the year. He was afraid that the freezing temperatures in the North Pole would affect the units we installed last spring. We designed each unit to be maintenance-free with lubrication that could work well in the below-freezing temperatures to ease his worries. To sweeten the deal, we also deploy our Aftermarket team on a regular maintenance cycle, and thoroughly inspect the most critical gearboxes driving his operation. After each visit we provide a detailed inspection report, along with key pictures showing potential problem areas. During these down months, we can repair or replace all his old equipment, which gives Santa confidence that he'll get through the holiday season without having to stop his operation. Santa has been handling Christmas for hundreds of years, and luckily, our Power Transmission Solutions are Built to Last. With technology and knowledge, we achieved all the goals Santa set for his new up-to-date Christmas Operation. We did all of that for the big red guy; imagine what we can do for your facility? If you are looking to upgrade your operation, increase efficiency and decrease downtime--then look no further. 
Hopefully, this job kept us off the naughty list this year, and the best part about it? No coal in our stocking this year. Our competitors on the other hand.......we can't speak for. 
Need a little joy under your Tree this year? Request a quote here and get the Santa Experience.
---
Need some extra cheer this holiday season?
Send us your wishlist.